Ice Skating Jewellery Care
Over time, jewellery can become dull and lose its sparkle, but cleaning your jewellery is not difficult, it just needs a little bit of care and attention every now and again.
Cleaning your Ice Skating Jewellery
Silver and Gold Ice Skating Jewellery should be cleaned regularly by giving an occasional rub with a specialist silver cloth. This will keep your jewellery sparkling and shiny.
Mini silver cloths are available to purchase at a cost of £2.75 when you order any products from Ice Skating Jewellery. Click here to purchase.
An occasional dip in a specialist 'silver dip' can also help to brighten up silver Ice Skating Jewellery.
With all items of jewellery, avoid contact with perfume, detergents and hair products etc, which can blacken/tarnish silver.
The chemicals in swimming pools can tarnish silver turning it black very quickly, we suggest taking your jewellery off before swimming in a pool and also whilst showering.
When your Ice Skating Jewellery is not being worn, store it in the original box wrapped with acid-free tissue paper. This will stop your jewellery from tarnishing further.
Gold-Plated Ice Skating Jewellery:
All gold-plated jewellery is plated by a specialist plating company in 18ct yellow gold. Ice Skating Jewellery recommends cleaning gold-plated items in hot soapy water with a soft toothbrush and rinsing well.
Over time, especially if the item is worn every day, the plating will gradually wear. Ice Skating Jewellery offers a re-plating service, contact for details.
Oxidised Silver Ice Skating Jewellery:
Oxidised silver has been chemically treated to produce a dark grey/black finish. Do not use a silver dip, silver cloth or anything abrasive on oxidised silver as this will remove the finish. Over time the oxidised surface will wear away, adding to the piece's character.
Ice Skating Jewellery can provide a free re-oxidising service. There will be a small fee for this service to cover return shipping costs.
If you have pieces that are particularly tarnished or that are in need of a bit of attention, Ice Skating Jewellery offers a clean and revamp service, please enquire for more details.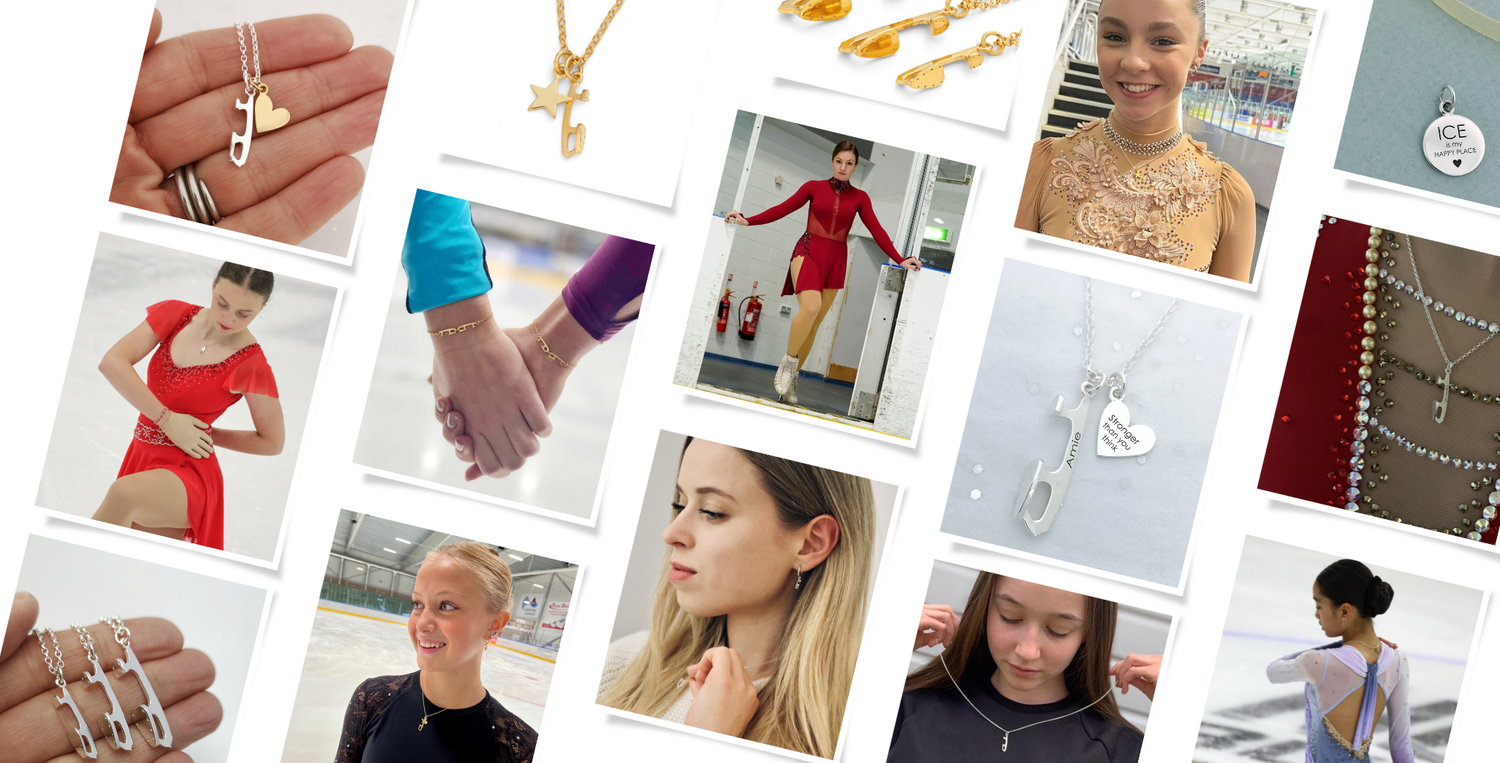 Wear your passion for figure skating

From ice skating necklaces to a pair of simple earrings, this is jewellery that reflects all the joy and hard work of figure skating.
Handmade in the UK.

CLICK HERE for all collections